This year's Christmas featured a delicious ham that was the perfect excuse to make a delicious soup. I chose the White Bean & Ham soup from Wives with Knives.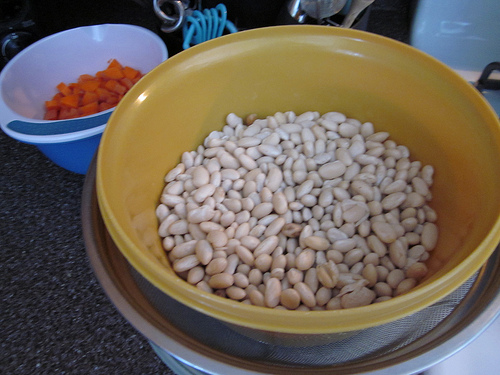 The night before, I set the beans to soak.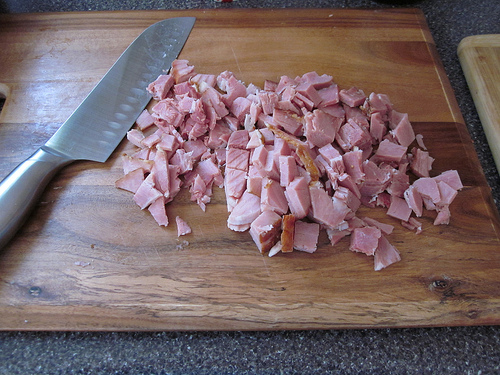 The day of making, I first chopped up some ham. I didn't have ham hocks so substituted the ham bits and the juices leftover from baking.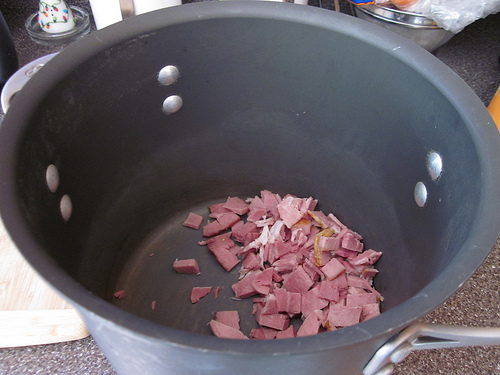 The ham went in the pot.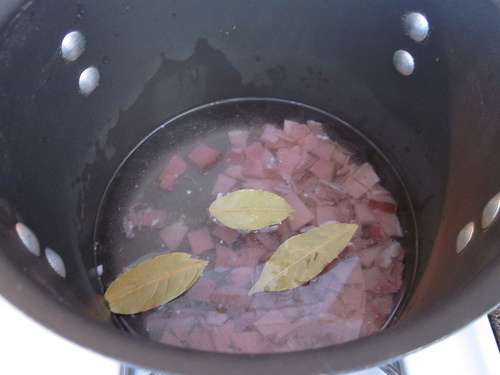 Then the water and bay leaves.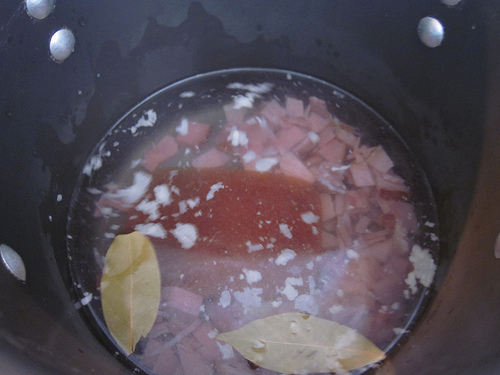 And the juices (that's the weird orange jelly looking thing floating in the pot).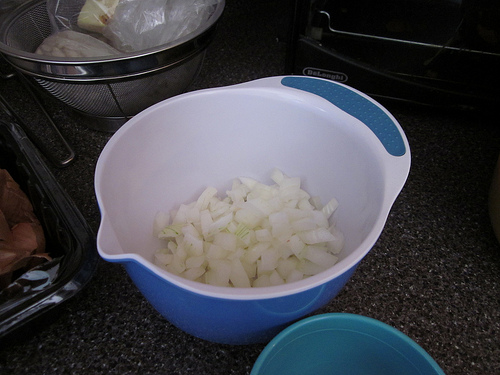 I chopped some onions.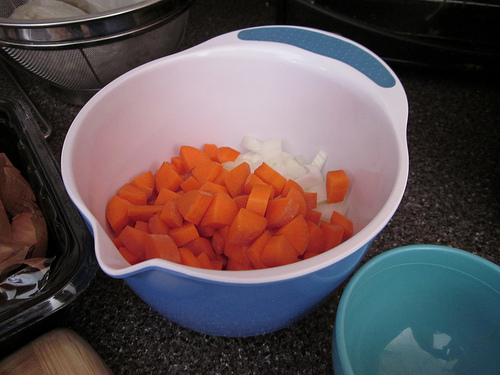 And some carrots.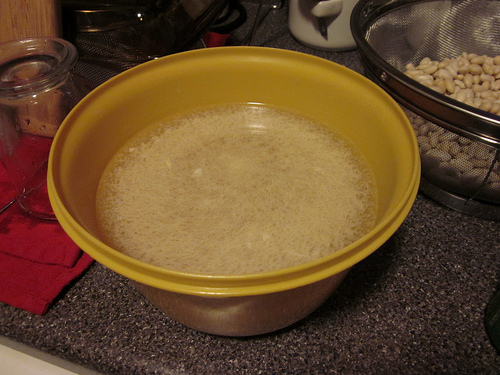 After the stock had boiled for two hours, I put it in a bowl to chill.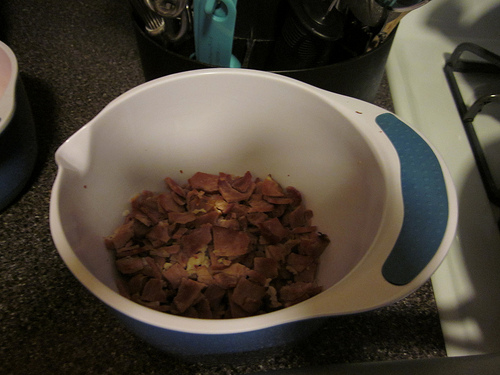 And drained the ham for later use. In the mean time, the onions and carrots were sauteed in olive oil.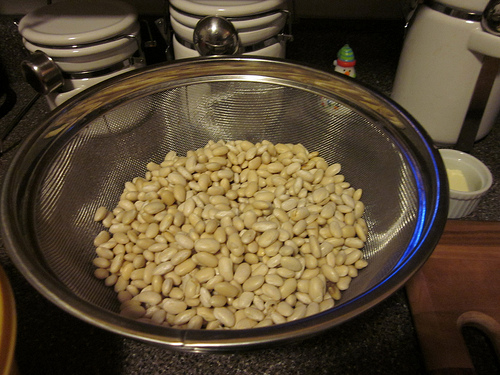 I drained the white beans.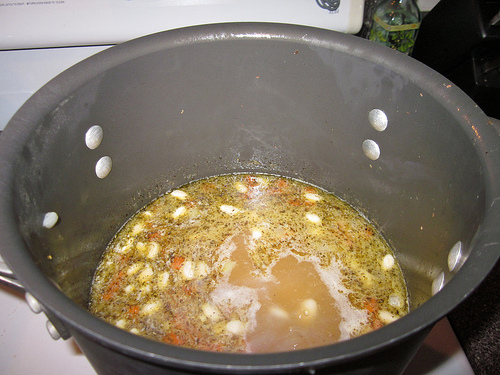 When the onion/carrot mixture was sauteed, I added the chilled stock and white beans to the pot. The mixture cooked for about two or three more hours until the mix was combined. I smushed the beans up per the recipe.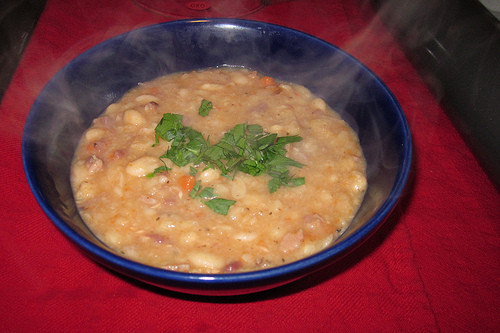 Here are the fruits of my labor.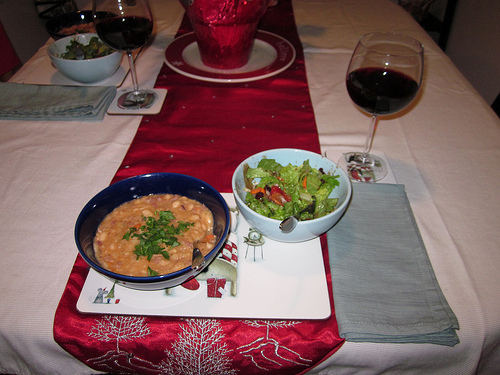 Paired with a delicious salad and a glass of wine, dinner was served!
Full Recipe
Ingredients
1 pound (2 cups dried) white beans – either Great Northern or canellini
8 cups water
3 or 4 ham hocks
1 cup carrots, chopped
1 cup celery, chopped
1 cup onion, chopped
2 bay leaves
3/4 teaspoon thyme
Dash of hot sauce
1 tablespoon red wine vinegar
1/4 cup fresh parsley, finely chopped
Salt and pepper
Instructions
Soak the white beans in cold water for several hours or overnight. Drain.
Put the ham hocks and/or chopped ham in a large pot and cover with 8 cups of water.
Bring to a simmer and cook until hocks are starting to fall apart, cook for two to three hours.
Add a handful of celery tops and the bay leaves to the stock as it simmers.
Remove the hocks/chopped ham from the stock when they are done and let them cool.
Remove meat from the bones and set aside.
Strain the stock to remove celery and any meat bits left in the pot.
Chill the stock if you want to skim the fat off the stock (I didn't have to do this because I used the chopped meat, so you could skip this step).
Saute the carrots, celery and onions in 1/4 cup olive oil in a large pot until they are soft.
Add stock, beans and thyme and simmer until beans are soft, usually about two to three hours.
Mash the beans as the beans soften to thicken the soup.
Season with salt and pepper and add vinegar and fresh parsley.