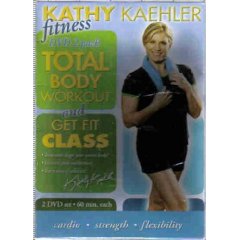 I came across a version of Kathy Kaelher Fitness: Total Body Workout and Get Fit Class at Target in the dollar bin. It includes two 60-minute workout DVDs.
Last week, I did the Total Body Workout that uses free weights, a chair and a mat. It has six 10-minute segments covering cardio, arms, legs and ab exercises. The cardio was kind of hard since you have to move and jump around, and my apartment floor makes a variety of lovely creaking noises. I was worried I'd bother my neighbor so I wasn't as into it as I should've been.
The muscle group exercise were cool though, employing free weights. I have 1-, 2- and 5-pound weights, so I'd like to challenge myself to increase my strength there.
I also need to do the Get Fit Class.
(This isn't the cover of my disc but must be the same DVDs.)