A few weeks ago I came across Gluten Free Spinner—a blog dedicated to showcasing delicious, gluten-free recipes. On that particular day, there also was a contest to win an Udi's care package. All you had to do was leave a comment and, I believe, subscribe to the blog's newsletter. Neither was particularly hard to do. Who wouldn't want amazing gluten-free recipes delivered to their inbox? I can't imagine such a person.
The same day I came across the contest, Chicago was experiencing some of the warmest weather it has had in a long time, not to mention in March. All around Logan Square you could smell charcoal burning and the wafting scents of grilling. Inspired, I decided to pull out my grill from its storage unit hibernation for some uncharacteristic March grilling.
The burger recipe I turn to is pretty simple, but very flavorful. I typically chop up onions and mix into the meat. (Occasionally red peppers or garlic gets added as well.) To keep the meat moist, I add some kind of sauce, such as tamari, but today I chose Worcestershire sauce. (I picked up Lea & Perrins, which not only is gluten free but also void of high fructose corn syrup. Double win.)
The burgers grilled up great and went really well with a toasted Udi's bun. Now that I'm eating gluten free, finding a soft and tasty hamburger bun was a grocery store triumph. I've tried other brands, but have found that the buns either overcook and become hard, or fall apart as you eat. Neither is an appealing result.
A little over a week ago, I learned that I had won the Udi's contest and would receive my care package soon! I couldn't wait to try the baked goods, and with Chicago warming up, it was perfect timing. This week, the package arrived and I've already tried the whole grain bun and oatmeal cookies. Both pass my taste test.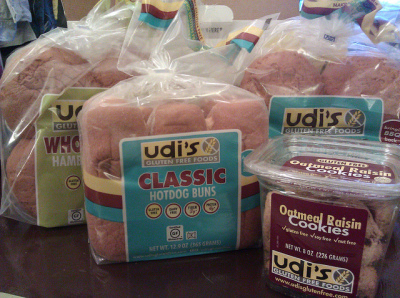 Thanks Gluten Free Spinner and Udi's for the delicious products!