Today I was asked: "What right did you lose because of the Hobby Lobby decision?"
My initial reaction is mixed with wonder, sadness, anger and frustration that such a question would be posed to someone adamantly arguing issues around the Hobby Lobby ruling. Wonder about why my personal affect matters when it comes to government policy, sadness at the implications that if laws don't affect me personally I shouldn't be arguing in the first place, anger because after much debate my arguments had fallen on deaf ears, and frustration for living in a society where true political discourse is almost impossible to achieve.
Mind you, this all happened on Facebook—the ultimate rabbit hole of troll wars and enflamed comments.
Yes, I know I shouldn't feed the trolls. (I'm in digital marketing, after all.)
Yes, I acknowledge I was on a path to nowhere.
Yes, I realize I can't change anyone's mind.
Certainly not on Facebook.
But then again, why not have discourse on the most popular social network where people spend on average four hours of their day reading status updates, liking memes and sharing inspirational quotes? Why not use the platform to explore new ideas and viewpoints? Why not?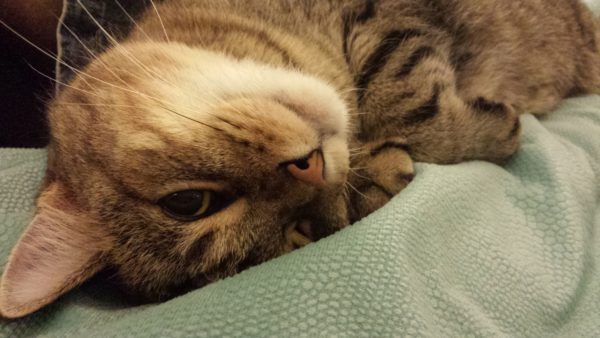 Before I get ahead of myself, I'm going to tell you up front I'm going to talk about politics and policy, feminism and women's rights, and even a little personal health story. To help us get through this, here's a picture of a cute cat. Go ahead, take a look.
My Personal History with Feminism
The Hobby Lobby ruling set off a need to explore the implications and aspects of policy setting in this country in a way I haven't felt in years. Indeed, the law's passing has become a hot topic of debate for me, as women's rights, specifically around the area of bodily integrity, have been an area of political passion for me since I was a teenager. Especially since taking a women's rights communications course in undergrad have I been so impassioned. In that class, we talked about the communication rhetoric surrounding women's issues: issues of health care coverage and access, issues of rights won by past feminist movements, issues that still exist today in many ways, and how, as a society, we discuss these issues. The rhetoric and use of language, specially around morals, beliefs and politics is beyond interesting—if you can get past the politics of it all.
This class introduced me to the concept of bodily integrity, taught me about mass health injustices inflicted on women as recently as the 1970s, and the law being made relative to abortion rights. My research group poured over stories of Native American women in the '70s who were told by medical professionals that after undergoing a hysterectomy, they could get a uterus implant when they wanted to start a family. Arguments made for and against topics around choice and birth control that we still grapple with in this country nearly 10 years later. A woman left in an induced coma, desperately in need of life-saving cancer treatment, while the courts decided if she should receive treatment at the risk of her unborn child. In many ways, stories that shook me to my core. These weren't recent, right? I asked myself. The case of the woman in the induced coma happened in the 90s. She didn't get the opportunity to voice her opinion.
During this time, I read bell hooks, who advocated for policy and law that accounted for the realities faced by all women, not just those in the middle and upper classes who often have more of an opportunity for their voices to be heard. Realities that include the inability to take time off of work to access health care, the impracticalities that all women have access to baseline affordable health care, and how all too often many women in this country are shamed, chided or threatened in hopes to deter them to access health care. hooks' points were eye-opening and pulled at my hearts strings thinking of all the scenarios in which a woman wouldn't be able to take care of herself and her body. It solidified my belief for policies and laws to protect and support women to do so, and the ultimate fundamental responsibility of government to create a safe haven for women in our society to create a productive and effective populace.
Bodily integrity is a fascinating argument that relies on the right to maintain authority over your body and the decisions that affect it. It's pure basis on your right to choose what happens to you is fundamentally compelling. It also moves women's health care rights away from arguments involving beliefs, morals and religion, which ultimately are impossible to argue when you don't agree with the other person's belief system. Simply put, I've found arguing law and policy based on beliefs gets you at a standstill where no law or policy can be made, and thus no positive change.
What does all of this backstory on my history with feminism have to do with the Hobby Lobby ruling? At its core, the ruling targeted a women's right to certain birth control methods, and thus their right to make informed, educated and affordable health care decisions. The ruling is based on religious freedom (specifically based the Religious Freedom Restoration Act of 1993) and inaccurate science that determined the four birth control methods Hobby Lobby doesn't morally agree with are abortifacients because they belief life is threatened because of them. It ate away at a women's right to bodily integrity.
I know those who hold certain religious beliefs will never be dissuaded. I commend them for their convictions and faith. I don't expect them to believe what I believe, though it's challenging to accept when scientific facts are dismissed. I don't argue with the thought I'll convert anyone to my side. I do hope that discussing different viewpoints will broaden perspectives and help further a discussion around creating legislation that does not impose an impossible burden on one group for another. That policy setting is a lot more than granting a company the right to run based on its owner's beliefs. That a person's right to access affordable, health care—for whatever their reasons being—should be left independent of a company stepping in and determining what is morally right to cover under a health care policy.
My hope is altruistic.
My hope is necessary for change.
A Personal History in Health Care
Many arguments surrounding the Hobby Lobby ruling are based in views of birth control, sex, morality and promiscuity. Yes, that's right, we're talking a little slut shaming. Of course, if you make that counter argument, no one likes to hear that their comments are slut shaming, so be prepared for shock and dismay at the suggestion. However, unfortunately, the idea that the women taking birth control are women who are having rampant sex without a care in the world is an antiquated viewpoint that needs to cease from intelligent discourse. Laced with accusations and shame, the idea resides in an area of discourse that limits the rights to have sex to only people who are married and ready to start a family. Without getting into a whole other debate, the implications that result from limiting the opportunity to have positive conversations around sex, family starting and when to do both lead to a whole host of problems that we have seen plague this country.
Likely the most common argument, an argument made by men and women alike, is that birth control falls in a category of "choice" medication that is absolutely optional and based on decisions a woman has made on how to live her life. These perspectives are rooted in the idea that birth control isn't medically necessary, and that all birth control methods are created equal.
Rachel Held Evans, along with 10 other women, answer "why I use birth control" to dispel the misinformation surrounding birth control, why this is such an important issue in today's society. The accounts range from choice around when to start a family to reducing debilitating period symptoms to managing serious medical conditions. The stories are real, personal, honest. They are all too common. They point to the many other applications we now have for birth control, and how it can improve a woman's overall health.
I am one of these women.
A few years back, I started experiencing chest pains, anxiety and overwhelming emotions. I couldn't identify a trigger or a direct reason for the physical pain and discomfort I was feeling. At the time, I was going through a particularly stressful period in my career where uncertainty and office politics were heavily weighing on my mind. But my symptoms were sporadic and seemed unrelated to my 9-to-5 stressors.
After months of this, and with some urging from my boyfriend at the time, I explored the idea that the only medication I was taking—the Nuva Ring—could be the cause of my woes.
Having been on birth control since my mid-teen years, I didn't know what to expect when I stopped taking birth control. I felt disconnected from my "natural" hormonally regulated body. But I knew I couldn't continue down this path of constant chest pains. They were concerning. They were ultimately dangerous for my overall health.
Within two months, the cramps I felt back in high school came back with a vengeance. My body seized for days with impossible-to-function cramps. I spent night after night at the beginning of each period cycle wide awake, in excruciating pain, as the ibuprofen I'd taken hours earlier navigated my system like a sugar pill. Work was a blur, as the pain overtook my body and created a sense of "fog." My doctors advised over-the-counter options and even a commonly used prescription drug. Nothing worked.
Finally, I tried Norco—leftover from a root canal. Though the pain wasn't eradicated, it was minimized enough for me to get some sleep and attain a little comfort. However, the powerful drug that contains a narcotic pain reliever, took hours to leave my body, so I felt numb and disconnected the following day. Long-term use wasn't an option and as a few more months passed with no change in how my birth-control-free body was reacting, I turned to my doctors again for help.
At one point my doctors suggested that I may have endometriosis, which commonly causes the severity of cramps I was experiencing. Exploratory surgery would determine this, but wasn't an ideal solution.
I sought the recommendation of a specialist, who after hearing my story, offered me a low-hormonal birth control as my only option to address the symptoms without full-blown surgery. Even though I was concerned about the chest pain returning, I gave it a try.
It took four days on the new medication for the chest pain to return. Four days.
Convinced I could never take oral contraceptives or use the Nuva Ring—which I came to learn contains the highest level of hormones among birth control options—I asked again for other options. To which my specialist refused there were. I even asked about the IUD, but she wouldn't prescribe it to an unmarried, motherless woman.
I sought a second opinion.
Fast forward three years later and I no longer have terrible cramps. I haven't had to take an extremely strong drug to get through the night. And I don't have chest pain. I don't take birth control because it prevents pregnancy. That's a nice side effect for a single woman in her 30s. But I take it because without it, I would be unable to function, work or take care of myself for four to five days a month. That amounts 60 days a year. Or 16 percent. If you're into data like I am, I'm a digital marketer after all, these numbers are compelling.
This ruling affects me and so many women as my form of birth control, one to which is the only option that works for me and doesn't cause other issues, isn't covered under this ruling. Though I'm amazingly lucky to work for a woman-owned company and it's unlikely my birth control medication coverage to be restricted, not everyone is so lucky. Paying for an IUD would cost me $1,000 out of pocket every five years. That's a lot of money for a an "optional" medication. And many women don't have the financial means to cover this without unnecessary burden placed on them.
A Personal History in Activism
One of the unspoken cardinal rules of social media is to avoid talking about politics, religion or morality. Do so and you risk flame wars on your wall and the unfriending of your distant relatives. Post an articles or a risqué viewpoint and long-winded comments slung back and forth between opposing sides will result. Those long-winded comments might be made by me.
My first advice to a business or client concerned about negative comments and dissent in social media is to repeat after me: Don't feed the trolls.
In some ways, when it comes to areas of discourse, this silence—this refusal to engage the other side—seems more harmful than beneficial. By remaining silent, you remain steadfast to your own very narrow viewpoint. You maintain your isolated lens. You live in a silo of perspectives. As a friend reminded me, "We're all a little narrow, I think that's OK, as long as we check ourselves!"
No, I don't believe we'll fight the good fight on Facebook. We'll likely go down more rabbit holes than we care to admit. But there's a lesson to be learned to argue your point and argue it well. To leverage an argument and rationally make it. To hear the other side, no matter how much you shake your fist at the computer screen.
I've joked the past few weeks that I'm practicing my argument ninja skills. I've admitted how I can't help myself but to make a case for the inherent issues I see around the ruling. For a communications major who graduated from a program based in the fundamentals of rhetoric criticism, moments of discourse and productive conversation are rare and sweet.
I think it's important to share opinion, have discourse, discuss ideas. Avoiding personal attacks as much as possible, of course, but we'll only meet in the middle if we open a dialogue.
I recognize that the ruling has stirred up frustration, anger and contempt for many on both sides of the coin. For women's rights activists, the ruling targets health care progress. On the religious freedom front, this supports religious rights of individuals and companies. In many ways, these sides will never come together.
But we continue to discuss. We continue to argue. We continue to learn.
Most of my argument opposing the Hobby Lobby ruling, despite this long read of a post, is based on Ruth Bader Ginsberg's dissent and the political "slippery slope" of exceptions that may result from the ruling. The Hobby Lobby ruling ruled in favor of upholding Christian beliefs around the beginning of conception and whether a company should have to cover certain birth control methods they feel prevent that conception. But there are many moral beliefs that blend with health care viewpoints, to which this ruling may one day allow. Ginsberg points to the difficulty in allowing one group an exception without allowing all groups exceptions. And with those exceptions, impacting the lives of American citizens. The slippery slope is like the Facebook rabbit hole. It's a road leading to nowhere.
The slippery slope is why I believe we should have more open discourse, move that discourse to action and eventually activism. In order to win the real war. The war where change is made.
The slippery slope keeps me engaged, even when I'm the only one arguing the other side.
The slipper slope affects everyone.