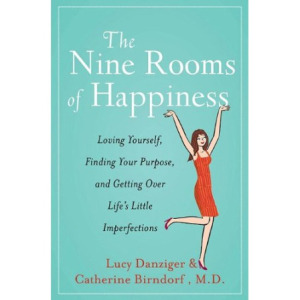 Just finished The Nine Rooms of Happiness: Loving Yourself, Finding Your Purpose, and Getting Over Life's Little Imperfections by Lucy Danziger and Catherine Birndorf. Danziger is the editor of Self magazine, Birndorf, a magazine contributor. The book is based on the premise that our emotional house is built similarly to a real house. Issues with family happen in the family room. Tension with casual acquaintances occur in the living room. Problems with self esteem mean you're hanging out in the bathroom. There's 10 rooms—basement, kitchen, family room, living room, office, bedroom, bathroom, kid's room, attic and the 10th room, an oasis where you take time for yourself.
The book's concept was an interesting one. Each chapter outlined the general idea of each room and then included a number of stories that would mean that the individual was fixated in one room or another.
What I thought the book was lacking was more how to commentary. I got the general point pretty quickly and the stories were helpful, however, I was looking for a little more practical advice that you could put into action.  I like to be able to apply what I've learned, but the way the book was setup didn't really do that for you.
I'm looking forward to the next book on the shelf: Eat, Pray, Love.
Books of 2010 total: 6