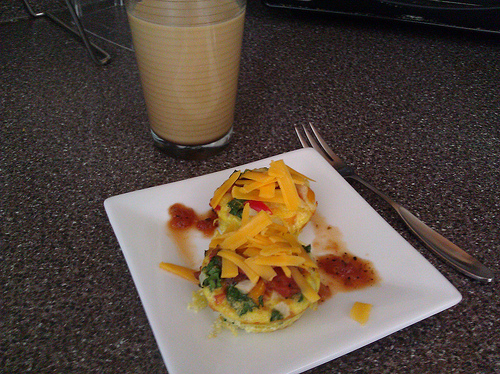 I found a quick breakfast tip in a back issue of Self magazine the other day where a reader discussed whipping up a batch of mini frittatas for the week. I thought this was brilliant, and the recipe was something I could eat gluten free (and dairy free if I have to adjust my diet again this week). So I decided to make them. And they lived up to the hype: they are ridiculously easy to make and delicious. Bonus points.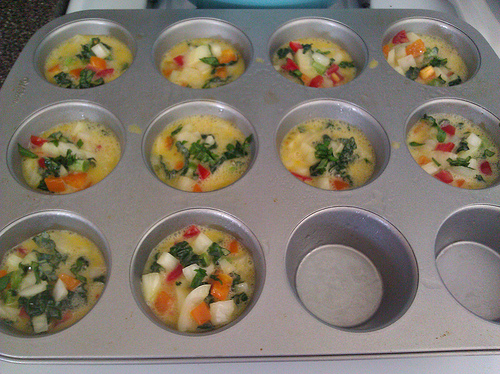 All you have to do is beat up some eggs, chop up your favorite veggies, divide into muffin cups and bake for 12 minutes or so. What could be easier? (OK, admittedly pouring a bowl of cereal is easier, but not as delicious, so there you go.)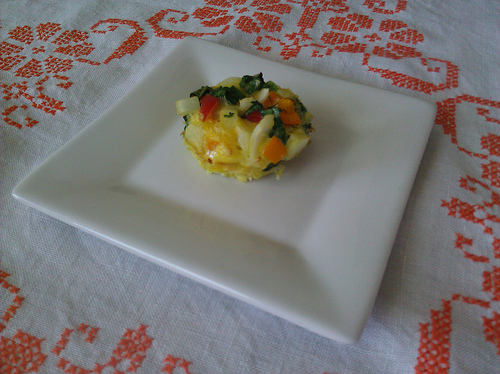 When they're done (I waited until the egg seemed suitably cooked through but not super browned), you pop them out of the cups and onto a plate. I used a icing spatula, which I find to be the best way to pop things out of muffin cups.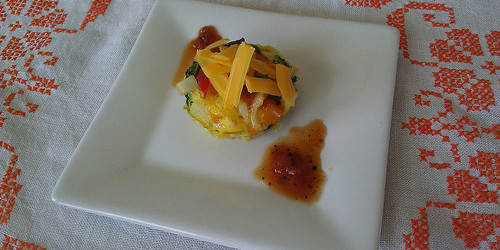 You can season with salt and pepper or with a little bit of salsa and sprinkle of cheese. Either way, it's light and delicious. Perfect for any morning.
Full Recipe
Ingredients
6 eggs
1/2 onion, diced
tomatoes, diced
orange bell pepper, diced
2 kale leaves, finely chopped
Basil, minced
Instructions
Beat the eggs.
Dice all the vegetables.
Mix the vegetables into the eggs and divide evenly into 10 muffin cups coated with cooking spray. Sprinkle a little basil on top of each cup.
Bake at 375 degrees for about 11 minutes.
Serve with a sprinkle of salt and pepper, or a dollop of salsa and sprinkle of cheese.
Store in the fridge for breakfasts all week.