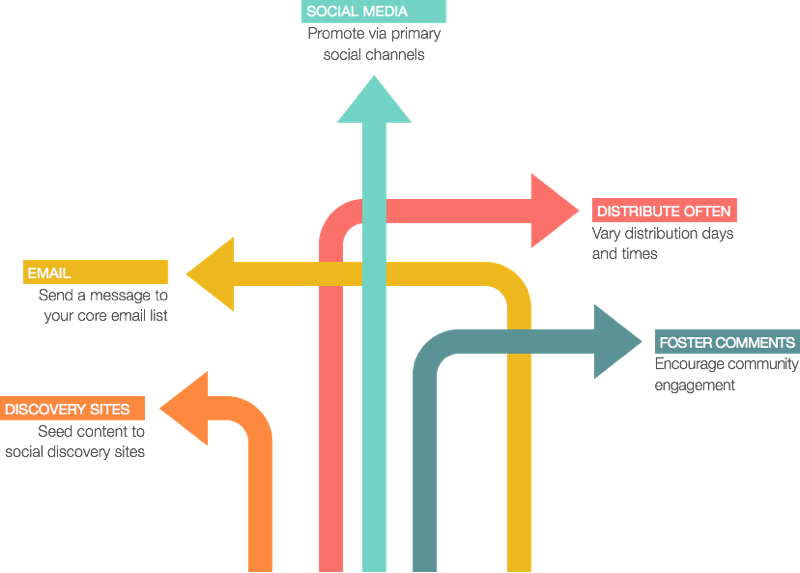 You spent hours on a mind-blowing post on your site, but nobody showed up to listen. You're frustrated. What was the point? Well, did you do anything to compel your social media audience to act?
Compelling your social media audience to act (and not just Like your Facebook page, leave a comment or retweet your message) starts with compelling content relevant to your target audience. Next, you need to promote your content in a way that motivates them to take action on your behalf. This is where you bring together your marketing strategy plan, your great content and your audience.
So now that you've got great content, what do you do with it?
Promote Your Messages
It's not enough to create great content if no one sees it; you have to promote—and promote it often—to your target audience. So every time you produce content, share it in a number of ways and on networks where your audience is consuming content. Here's how:
Promote your content across multiple social channels
Make sure to promote your latest blog post, upcoming training, industry event or business development announcement across all social channels to ensure your entire audience sees it. The social networks you use to promote your content will depend on your audience.
For example, a blog post can be promoted on Twitter via several tweets, shared on Facebook via a post, posted to your Google+ page and pushed through your company's LinkedIn page.
Don't forget image-heavy sites. Include at least one eye-catching, compelling graphic and you can pin an image to Pinterest promoting your blog post and share via Instagram.
Bookmarking sites, such as StumbleUpon and Digg, are leading sources for referral traffic. Don't miss these great opportunities to promote your content by adding it here as well.
Repeat your content promotion
Depending on the social media network, you may need to repeat your messaging. News gets old in a hurry on Twitter, and your audience may miss your message, so we recommend broadcasting multiple times (varying your language) at different times of the day. On Facebook frequent posting is spammy or annoying, so it's better to post a single piece of content less often.
For example, say you have a campaign you'd like to promote for three days. Schedule promotional tweets every hour or two over the next three days. Notify strategic partners, industry leaders and the media to help promote your campaign even more. Post a message to Facebook each day of your campaign, and set up reminder messages periodically throughout the day.
Sales and fundraisers warrant more aggressive promotion and messages. Just make sure the content is relevant to your audience and the message is varied enough to remain interesting.
Don't forget your email newsletter as a content marketing tool. Scheduling your email blasts around critical campaigns promotes your message to your most engaged audience: those people who invited you into their email inbox.
Vary your distribution times and days
When promoting content, vary the times and days you schedule your message. The "best time to tweet" depends on when your audience is active on social media, and can vary depending on your market. Experiment to find yours.
For example, our client Fleet Feet Sports found that their audience of runners were very active in the early morning before they set out on their daily run. Other markets, such as moms and young parents, tend to be online after they've put the kids down to bed. Business professionals tend to be fairly active around lunch time, when they take a mid-day break.
A lot of social media promotion happens during the business week. But Saturday morning may be the best time to catch your audience's attention, depending on your targets. There's less messaging noise and they may have time to linger.
For LoganSquarist, a website I created to promote news and information about Chicago's trendy Logan Square neighborhood, our audience of neighbors and businesses is very active over the weekend. At Lightspan, our client Embellish by David Tutera has an active weekend Facebook community.
When timing messages, consider how your audience navigates their day-to-day and tailor your messaging schedule accordingly.
Foster Your Community
Once you've promoted your content, your job is just beginning. You've caught your audience's attention, now engage them. Social media isn't just a broadcast channel, it's a conversation. Embrace this opportunity!
This part of the content promotion cycle often is referred to as community management—what we do at Lightspan for many of our clients—where you foster conversation and take care of your audience's needs.
Community management is an important part of every social media strategy, and a step often overlooked. If you've created compelling content it will garner comments and messages. That's engagement! Take a moment to answer these questions, respond to comments and further the conversation. Don't leave your audience hanging.
Engagement is an important part of any strategy because it's an indicator of interest and a precursor to the relationship you're using social media to build. However, you still need to motivate your target audiences to act.
How do you promote your messages and foster your community to compel your audience to act on your behalf?
This is a four-part series. Check out Part 1: 8 Tips to Find Your Social Media Audience, Part 2: Develop Your Social Media Content and Part 4: 7 Essential Steps to Social Media Lead Generation and Conversion.
---