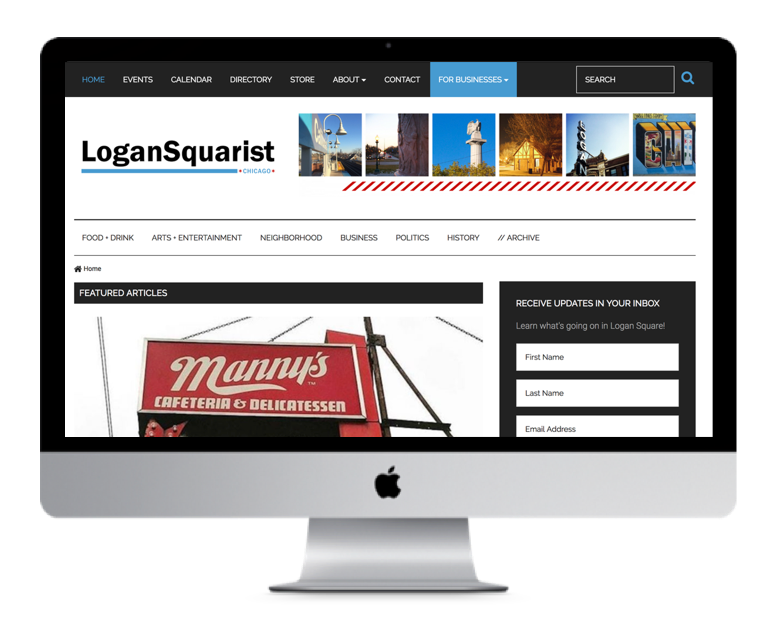 After moving to Logan Square, I discovered a lack of resources covering my new beloved community. In 2011, I founded LoganSquarist.com as a way to connect a burgeoning neighborhood with recent news and local events. Over the past several years, the organization has grown to publish weekly, manage a business directory and calendar of events, and bring together local neighbors through monthly meetups.
In 2012, RedEye Chicago named @LoganSquarist "a Twitter account you should be following." More recently, LoganSquarist articles have been referenced by respected publications such as Huffington Post, Curbed Chicago, Eater Chicago, DNAInfo and GapersBlock.
As the publisher, I manage a team of more than 30 volunteer staff members and oversee company operations. Additionally, I designed and built the site's website.
Monthly Stats
The website supports a daily online publication that supports a community of more than 18k. By covering neighborhood news, food + drink, business, arts + entertainment, politics, crime, living + lifestyle topics, family + youth, historical information and events, LoganSquarist strives to socialize the neighborhood and serve as a resource.
12k+ engaged social fans of 80k neighborhood
3k+ weekly newsletter recipients
18k pageviews, 12k users
13k+ comments & shares
235k+ impressions
Engaging Community
With the mission of "socializing the neighborhood," LoganSquarist is not just an online news outlet. Over the past four years, it has successfully taken online community offline through neighbor meetups that allow neighbors to interact with each other in real life.
37 neighbor meetups hosted around the Logan Square area
2k neighbor attendees participated in monthly event
50 average attendees and volunteers attending every month
Volunteer Run
LoganSquarist is fueled by the commitment and energy of passionate neighbors providing writing, photography, events planning, marketing and skills.
30+ dedicated active volunteers donating spare time every month
former staffers over the past four years of the organization
5 interns benefited from work experience through participation
Homegrown design.
LoganSquarist, a hyperlocal news website serving the Chicago neighborhood of Logan Square, serves a readership through daily articles and content. Its site requires flexible functionality and device mobility.
LoganSquarist.com Over the Years
Over the years, LoganSquarist.com has seen a number of redesigns, add features and functionality, and iterations. Currently, the site employs it's fourth major design.