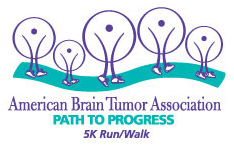 Today I ran in the 5th Annual Path to Progress 5K Run/Walk, of which proceeds support the American Brain Tumor Association. I was running late to the event so I arrived a little flustered and still needing to pick up my racing bib and go to the bathroom. I had no idea how I was going to meet up with my friends since the crowd was pretty large. I set out a little too fast as well, pacing behind a faster racer than I. It was some what of a mind struggle the rest of the race because I tired too quickly. Despite that, I finished with the time of 29:40, which is 47 seconds less than my Earth Day 5k time (of 30:27).
I have another 5k in two weeks—the United Run for the Zoo. I hope to keep my time under the 30-minute mark. I'm also going to start training for the Susan G. Komen Race for the Cure 10k in September.
Despite all of this running, and my busy schedule that has limited my training, I have had very little aches and pains. I'm feeling really strong and looking forward to getting more comfortable with longer times and distances.