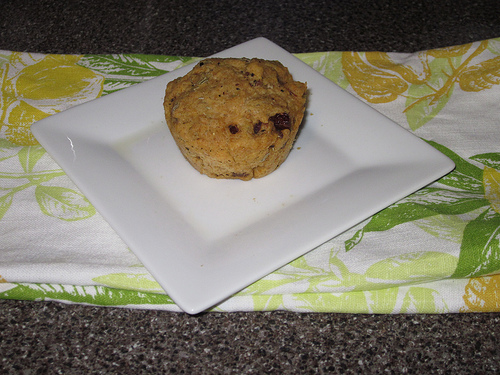 Described by Inventoids, this recipe is "half muffin, half focaccia." I've translated the recipe to cups and Fahrenheit. (See the original Muffocaccia recipe.)
Mmm … delish!
Ingredients
1 1/3 cup strong white flour
1 1/3 cup strong wholemeal flour
1 1/3 cup semolina flour (2 pounds of flour total; proportions can vary)
2 cups warm water
1 tablespoon of salt
1 teaspoon of dried yeast
chopped fresh rosemary
chopped fresh thyme
chopped fresh basil
chopped sun-dried tomato
1 to 2 cloves garlic, crushed
sea salt, to taste
olive oil
Instructions
Combine first six ingredients in a big bowl. Knead for 5 minutes. Leave for a couple of hours in a cool room.
Knead again for 5 minutes and leave for a couple of hours in a cool room.
Add rosemary, thyme, basil, sun-dried tomato, garlic and sea salt to a frying pan with lots of olive oil for 5 minutes in order to flavor the oil.
Smooth herb mixture into the dough, working the oil and the herb mixture into the dough, distributing evenly throughout.
Scoop dough mix into muffin trays. Fill the cups to about 3/4 or 4/5 of the muffin tray.
Leave the muffins to rise for anything up to an hour—until they are doubled in size with nice muffin tops.
Bake in a 400º F oven for about 20 to 25 minutes.
Drizzle olive oil over the top.

Serve warm.