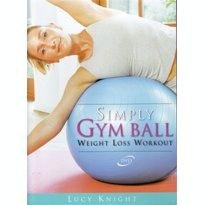 On the agenda was going through the Simply Gym Ball workout. This has been the easiest DVD so far and the shortest. At 30 minutes long, it's less intense of a workout, but focuses on core training and all around toning. I think it's nice for a quick workout to fit into a busy schedule. I like using the gym ball as it allows you to maneuver into positions that work muscles you wouldn't necessarily be able to target, such as the triceps. There's a nice triceps dip move on this DVD that I hope yields results.
I have another Pilates workout tape that I haven't tried in ages that I will need to go through. This is only my fourth DVD of the 10 I intend to try out. I have a ton of really old yoga tapes that I'm not sure I'll like, relate to, do anything with, have ever tried in the first place, will want to keep. Because I have so many yoga tapes, I'll probably continue practicing that every other day, mixing the other tapes in between.
We'll see if I'm sore from this workout tomorrow. Time always tells!