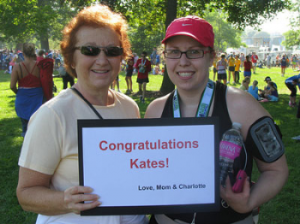 Wednesday I mentioned becoming a marathoner. And it's true, I'm setting out this year to finish the Chicago Marathon in October. (pause for dramatic effect)
I've been building up for this  challenge for some time. Last year I ran in the Chicago Half Marathon (see my mom and I after I completed the race in the picture at right) and as part of my 30 at 30 challenge (check out what I'm doing to celebrate turning 30 this year), I added the marathon as one of my goals.
I take on the marathon with excitement, nervousness and a slight twinge of fear. All of which are motivating me to move forward and toward my goal. And to get me ready to run 26.2 miles, I've joined with TEAM TO END AIDS Chicago, a training and fund-raising organization that raises money for AIDS awareness and research. I've pledged to raise $1500.
Wow, $1500 could go a long way in fighting this disease.
With each donation, I'm motivated even more to train and prepare for the race. With each show of support, from family and friends, I'm driven more to wake up and stick to my training program. I wouldn't want to let all of my supporters down. Or myself. I have to do this. I want to do this.
So far I've raised $500 toward my total goal. Not bad for a little over a month of fund raising. I've received support from family, from friends, from Twitter supporters, from neighbors. The support has come from people I expected to give, and people I am surprised to see show their support. It's been an amazing experience so far. And I'm just getting started.
If you'd like to support TEAM TO END AIDS or my marathon running efforts, you can donate online or in person (I can take pretty much any form of payment). As always, thank you for your support!
30 at 30 Challenge: Goal #2 and #11 started