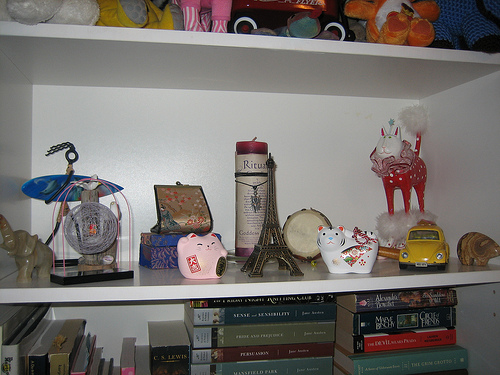 I rearranged my tchotchke shelf after I put all of the Christmas decorations away. I end up doing this every year since I have to clear this shelf completely to accommodate the holiday decor. This shelf features a number of mementos from my travels, as well as various gifts from friends and family. (You can click on the photo to see a larger version on Flickr, as well as the notes.)
From left to right:
Elephant. This elephant used to belong to my Grandma Dusty. I inherited it after she died and I think of her whenever I look at it.
Surfer. During my trip to Maui, I picked up a couple of mementos to remember this chance-of-a-lifetime vacation. This is a little metal surfer carrying a colorful surfboard that says Maui on it.
Origami sphere. When my mom and I visited my Uncle and Aunt in Florida back in 2007, we went to Epcot. I found this in the Japan pavillion: It features an origami woman hanging in the middle of thread sphere suspended from a double arch.
Seagull/wharf. Behind the origami sphere. I have visiting California more times than anywhere else, yet I only have this to show for it. It's a little wharf section with seagulls perched upon in.
Japanese change purse. This is a silk and finely embroidered change purse I got as a gift a long time ago.
Meditation balls. Underneath the change purse sits a pair of meditation balls. I don't use them often, but they're pretty.
Lucky cat. My visit to Chicago's Chinatown, which has only been once despite my close proximity, led me to inherit a lucky cat. Lucky cats are just that: bring you luck. The color will determine the kind of luck you'll have. Pink represents romance. (Gold is for money, white is all over lucky. The list goes on.) I can't say I've been particularly lucky, but I guess I haven't been particularly unlucky, so that's saying something.
Ritual candle. This is a pretty purple candle with a pendant hanging from it. I'm not sure where I got it from, but I've never burnt it because I like it so much.
Eiffel Tower. Again at Epcot, I picked up this miniature Eiffel Tower in the France pavillion.
Native American Tom Tom. When I was young, I was really fascinated by Native American culture. To this day, I would be so blessed to visit a reservation and witness the traditional dances. This is a child's toy that you roll in between your hands back and forth to make a drumming noise.
Tiger. The tiger is the newest to the shelf. My cousin and his wife sent it to me for Christmas. 2010 is the year of the tiger. It has a little bell inside as well.
Krinkle cat. A few years ago, I fell in love with Krinkles. They're these ridiculous figurines dressed to the nines. This is a little white cat decked in red.
VW Bug. In the traditional bug model, this car has a surfboard on top that reads Maui.
Bear. Lastly, my dad gave me this bear from a trip to Colorado. I have been to Boulder, but I don't think I got it while I was there.